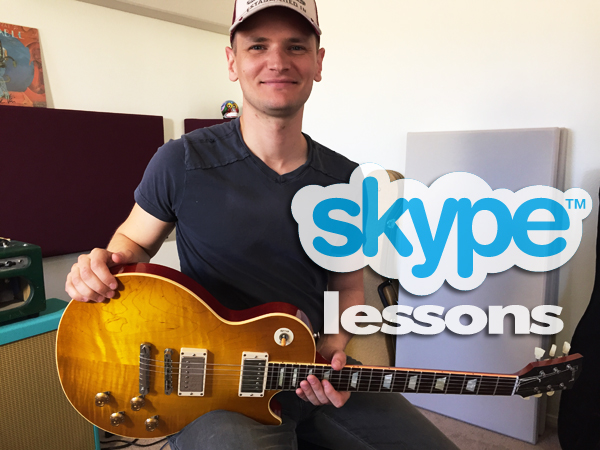 Hi,I'm giving Skype Guitar Lessons from my home studio. I have been teaching for 20+ years and always enjoyed helping other players to get to the next level. We can talk about technique, sound, improvisation, songwriting, music theory or how to get your timing together – up to you!
You can book your Skype lesson right here through the website. I offer special deals if you buy 5 or more lessons! Contact me to schedule your lesson now!
---
Student Testimonials
Blues to the max! This guy has checked out Stevie Ray, BB King and all the other greats. It's a pleasure to learn from him.-Don K.
Finally I was able to break out of the 2 positions of Pentatonic that was the only thing I was playing for years. Thank you!-Chris M.
Very nice and positive lessons, and he gave me great ideas and homework how to keep improving on my own!-Julie B.
Man, I learned more in a handful of lessons with Micha than in years with my old teacher. Finally somebody connected the dots for me! I was a beginner/intermediate level blues guitar player and with Micha I could learn about scales in modes in no time.-Jeff C.
This man knows his stuff. Don't waste your time on basic chords. Ask him about music theory, Circle of Fifths, etc -Rick
I was already familiar to jazz guitar a little bit, and Micha showed me new approaches to improvising, cool arpeggios and some neat tricks. I feel I improved a lot and I have a lot of fun stuff to keep practicing with.-Maria H.
---
For my Youtube users, you can download the lesson material here: Pentatonic Scale Part 1 PDF | Pentatonic Scale Part 2 PDF | Jamtrack for Part 2 | Open String Chord Voicings PDF
---
How to play Robben Ford's 'Rose of Sharon'
Check out this little lesson on how to play Robben Ford's tune 'Rose of Sharon'. I'm also explaining what makes Robben's compositions so special, and how to break up traditional song structures. Enjoy!
Download the chord chart HERE