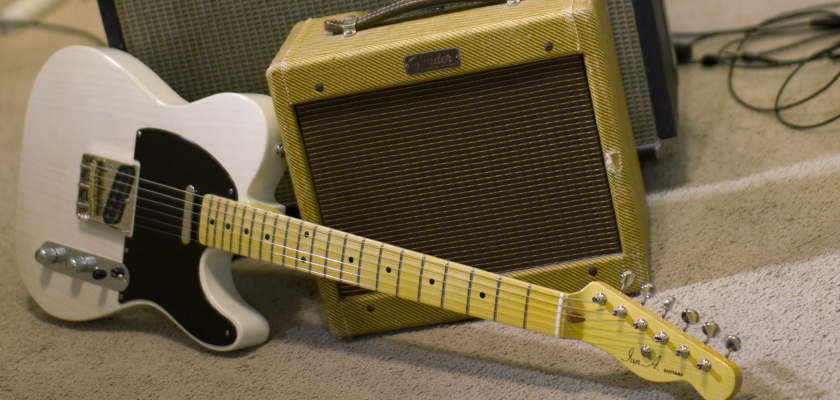 A few weeks ago I had visit in my studio from the top class guitar builder Ian Anderson. I was fortunate to be allowed to test drive a couple of his guitars, including a gorgeous Flying V! We shot some demo videos while we were at it. Check out the videos below and the ones on my Youtube Channel.
Micha Schellhaas January 28th, 2016
Posted In: Uncategorized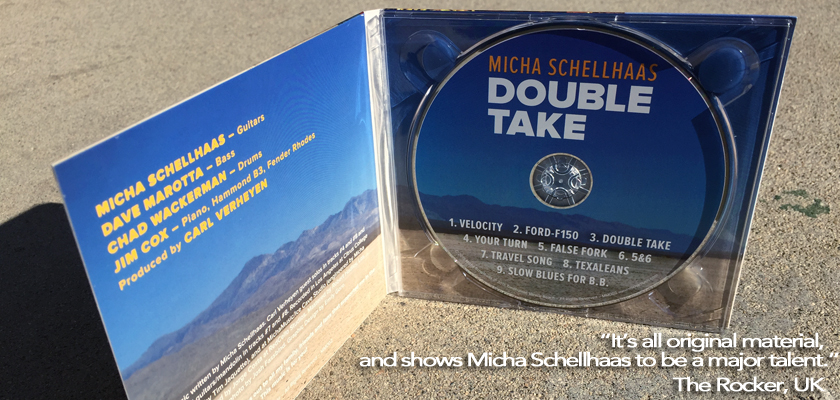 DOUBLE TAKE is receiving more great reviews! In the beginning mostly US critics reviewed it, and now the international reviews are coming in. Double Tale received glowing reviews from Belgium, the Netherlands, the UK, Greece and Italy! See below. I'm stoked! Get your copy of 'Double Take' here.
"…if fancy fusion fretwork is your thing, then you really need to be having a listen to this, as it's very impressice indeed…
It's all original material, and shows Micha Schellhaas to be a major talent."
"Guitarist Micha Schellhaas is clearly inspired by jazz, blues and rock, for which he went to America, to taste there the roots of this music. He is an excellent and unique guitarist and composer, he proves that with "Double Take" very strong…"
"Micha Schellhaas appears as an artist to follow. His first CD is listened to from start to finish with attention and interest. Fans of jazz, blues and rock should find their account, particularly those of Larry Carlton, Lee Ritenour, Eric Johnson, Robben Ford, Jimmy Herring and Jeff Richman"
Fans of JEFF BECK, would think that this is a new album by him, but, it's not. It is Micha Schellhaas with his new debut album called "Double Take"…
If you want a great album mixed with Classic Rock, Progressive Rock, Blues & Jazz, you'll love this album. Carl Verheyen formerly of Supertramp says "Micha Schellhaas has a unique touch on the guitar that sets him apart from everyone playing the instrument today." This gets 5 out of 5 Music Guru Stars
And here comes a debut that you don't expect to blow your ears open and it does just that. A budding guitar whiz, Schellhaas has rounded up a flock of classic jazz/rockers and the fur flies in classic fusion fashion. It ain't about the flash and fire, it's about the deep chops that just plain grab you and hold you. A German cat that's soaked up everything there is to soak up, this will take you back to the day in fine fashion. Right on throughout.
…My absolute favorite, however, is (the track) "False Fork." Here Micha goes more firmly into the jazz realm, and this track has a very cool vibe, and some wonderful work on guitar, as well as bass. And holy moly, check out what Chad Wackerman does on drums toward the end of the track. Fantastic. That section excites me every time I listen to this disc.

http://michaelsmusiclog.blogspot.com/2015/12/micha-schellhaas-double-take-2015-cd.html
Next is one of my personal favorites on this quite delightful debut album, 'False Fork.' A brilliant title aside, its drummed back beat of swing jazz mixes elegantly with its subtle 70's soul undercurrent to produce a track that, for my money, encapsulates the guitar genius of Schellhaas quite like no other. That's backed by '5&6,' a much harder, rockier guitar piece, which is then followed by fun ride of 'Travel Song.' The album then comes to a close with the Texas swing Blues rock of 'Texaleans' and then the to-die-for melodies associated with 'Slow Blues For B.B.' enable the full-length musical masterpiece to round out in some style.
Micha Schellhaas January 5th, 2016
Posted In: Uncategorized