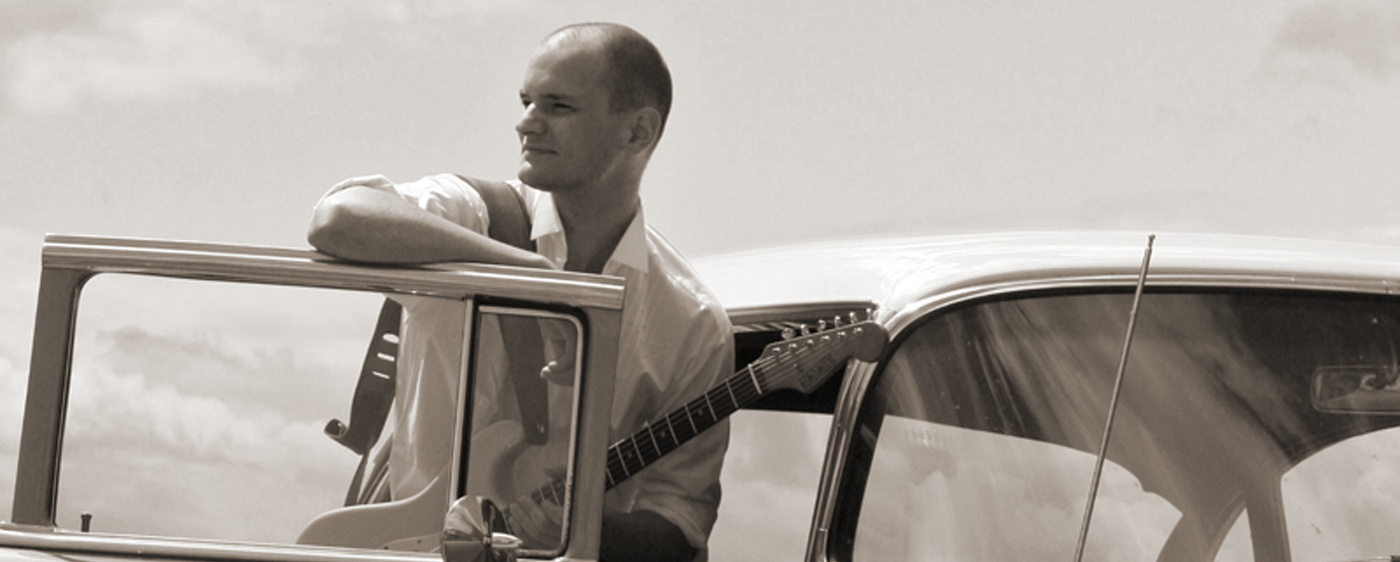 Interview with the Portuguese magazine Via Nocturna! English version below. Full interview in Portuguese here. Also read their online review of 'Double Take' here.


Hi Micha! Thanks for your time! Your career began in Europe, what made you move to LA?
Hi! Thanks for having me here! I was living in Amsterdam, and about 8 years ago I started traveling to the US, and one day just didn't go back anymore! I enjoyed the music and the scene of musicians in Europe, but artistically I always felt more drawn to the sounds of the US. I spent a lot of time in Austin/Texas that has a vivid Blues and Indie Rock scene. I also visited California a lot an when I finally moved I shortly after ended up in LA. The area is great and there is lots of music here. LA has a great scene of musicians and some legendary recording studios, a lot of the business is happening or being planned here. I was able to record with top notch players, and now I found two very inspiring players for my trio that is starting to play out now. I think LA is just one of the places to be for musicians, I find a lot of likeminded people here.
How did your career in Europe develop?
I studied guitar at the conservatory in Arnhem, the Netherlands. That was a great time and gave me the opportunity to practice a lot and to build a network that would support me once I was finished. Then I moved and I played a bunch living in Amsterdam: with DJ's, Jazz gigs, festivals,… there is also a lot of pop and even rock music played there, but not as much blues as compared to the US. I was also running a recording studio with a few partners, and we worked with a variety of clients. In that time I learned some engineering and production skills that I'll always benefit from. Plus we always had a nice place for our own projects and productions.
How long have you been living in LA? How was your adaptation?
3 years now! The city is just dictating a certain lifestyle on you that you'll just have to accept – like having to deal with traffic! ☺ In return the city gives you many opportunities and many likeminded people. Doing the latest record "Double Take" and the EP "Wings of Fire" in 2013 was definitely an experience that showed me that it was the right decision to come here. It is a crazy city but at the same time there are very many talented musicians, engineers, photographers,… there is a lot of art around. I was lucky to have made some great connections here in the first few years.
Anyway, Double Take is your full-length debut. Did the final result come out as you imagined?
Yes I'm very happy with it! I was able to bring my compositions and my playing together on a high level and recorded it with real legends in the studio. Carl Verheyen (the producer) is one of LA's top guitar players who has done endless recording hours in the most legendary studios all over town. Having that much experience on your side helps a lot. I felt I really got the best support possible and having inspiring players such as Chad Wackerman (drums, Frank Zappa) made me play my best. The confidence and the circumstances came together and made it happen and I'm sure years down the road I'll keep diggin' this album. The tunes a cool and the band plays them beautifully. I never had a clear picture of how a first record has to go, but this was pretty sweet! ☺
You have worked with great players. How they come on board for this recording?
The producer Carl Verheyen brought them on board. First for the EP in 2013, and because that went so well I kept in touch, and we were trying to get everybody back for the recording sessions for "Double Take". Jim Cox had to leave on tour with Mark Knopfler, and Chad Wackerman was supposed to be still in Europe, but at the end we found recording dates and made it happen.
Can you speak a little about the recording process? Were there lots of jams and improvisations?
We worked pretty straight forward. I brought charts, music for everybody to read. Then I would play the main parts for the band in the control room and everybody would take notes. We'd play the tune a couple of times before starting to record. It was great to see that these were all some old friends playing together, everybody came up with the right thing to play very fast. Everybody would bring ideas to the table and we made some great spontaneous changes to the music that made the album really sound "together". I was playing a guitar part during the band recording days that was guiding everybody through the song, and would later replace most of that with layers of new guitars. Playing a different guitar for the rhythm and solo parts and dialing the sounds very carefully together with Carl. All the solos are improvised, so every new take was a new adventure. I could take time with Carl in the overdub days and record some cool acoustic guitars, a mandolin, a 12-string… we also got out a real Leslie rotating speaker from a Hammond organ and recorded guitar through it. Tons of fun!
And the title Double Take, is a joke or is connected with the recording sessions? Did you record it in two takes?
A "double take" is also if you see a nice person on the street, the person passes and almost instinctively you have to turn your head again to get a closer look! I hope my music is a little bit like that, and that it inspires the listener to take a closer listen. It also stands for the playfulness of life I think, just having something cool come along the way and you have to stop for a second and check it out.
I suppose the last song is a tribute to BB King. In which way was he an influence to you?
My first real concert was a BB King show in Germany! I stood first row and couldn't believe it! Such a good time to see him play and he was such a strong blues performer. He signed my ticket afterwards, and gave me his guitar pick. That was the day I got the blues! Ticket and pick are still framed in my studio. BB passed away during the recordings for "Double Take" and I thought recording this tribute to him on my debut album would make a nice full circle.
Speaking of songs, what's the meaning behind the title 5 & 6?
Ha, that's a good one! The meter of the tune is 5&6, that means you don't have to count 1-2-3-4, but first to 5 and then to 6 to get the rhythm. That's kinda nerdy but makes for a cool song title ☺
About live appearances: Is it easy to deal with the agenda of your recording mates or will you have other musicians?
For playing live I just put my new trio together. The musicians from the album have a legendary status when it comes to touring – schedules are hard to match and I just can't offer the size of shows and tours for the guys to be able to do it. But I have found two very inspiring and scary good musicians for my trio. We play the material from the record and I am having tons of fun playing together. They count 5&6 like it's no problem! ☺ No really, I am very happy to have them backing me up and I am looking forward to playing more live this year.
Well, Micha, thanks for this interview and I give you the chance to say something more if you want to.
Well, thanks again for having me here and taking an interest in my music! I hope that people will find my website www.michamusic.com and follow me on Instagram and Facebook. The trio will be a lot of fun and I'm regularly posting new video and sound recordings. Rock on and Greetings from California!
Thank you very much!!!!
Micha Schellhaas April 25th, 2016
Posted In: Double Take